Backlinks are the 2nd most vital factor of Google's ranking process for the search engine result pages (SERPs). The backlinks data is the gold mine for SEO experts, as they anchor their strategy based on the analysis of this data. This shows how important is backlinks in the search engine optimization (SEO) industry.
Generating, earning, and winning a backlink is a hell of a job; it takes laborious efforts, insight and deep knowledge of SEO. Moreover, it is a never-ending job. You need to keep working on getting more and more backlinks from authoritative websites to increase the visibility of your brand and platform.
As I said, it is a never-ending job, which means you not only have to earn more backlinks but also need to keep an eye on the performance of existing links. The performance of existing backlinks is essential if you want to promote your platform at different forums. So, you need to keep auditing your backlinks to evaluate the performance. Such a performance audit is the backbone of any industry, and SEO is no exception.
What is Backlink Analysis?
Before defining the motivation behind the backlink analysis, let me define what the backlink analysis is;
Technically, it is the process of evaluating all links pointing towards your website or a page. This whole process involves critically reviewing the number, quality and authority of backlinks and the traffic through these backlinks using specialized SEO tools.
Why to perform Backlink Analysis?
Let me use a simple example to understand why one needs to perform analysis and keep striving for new backlinks. You might have noticed that the blog you might have read a year ago is no longer available or is hard to find again. This means that content in search is either deleted or no longer relevant to the users. So, Google has lowered its rank in its ranking.
 This means that content keeps changing and updating with the recent trends and advancements in the market. So, the link you might have earned a year ago is no longer available.
It raises the question of how you would be able to get this knowledge. Of course, you need to perform analysis on your backlinks.
Similarly, one might have achieved its targeted number of backlinks by using different means. How would you know that these backlinks are also giving you business? Of course, you can only evaluate their performance by analyzing these backlinks.
Moreover, backlink analysis is also required to see the progress of your competitors as well. This is also essential to compete in the digital world, as you must keep yourself a step ahead of your competitors.
Backlinks and their analysis are as vital as the content of your platform. In this blog, we will let you know how this analysis is performed and the important factors in this analysis that one needs to look after to outperform its competitors and get the desired visibility for better conversion and business growth.
How to perform backlink Analysis?
Many SEO tools can provide you with the details of all the parameters related to the backlinks. We will discuss three of the most famous SEO tools in this blog: Ahrefs, Moz and SEMrush. These tools provide ample and necessary information on your backlinks' quality, quantity, recency, and relevancy for onward corrective measures and doable actions.
Backlink Analysis using Ahrefs.
Ahrefs is one of the widely used tools in SEO for different analysis, and backlink is one of them. Just type your URL at the top and search. This will give you the data of total backlinks, referring domains, broken backlinks, anchor text and many more.
It can also provide the details of the traffic from each referring domain. It also provides information on dofollow, user-generated content and sponsored links. One can also apply multiple filters to squeeze down your analysis, like domain traffic and authority.
It also gives you the facility to exclude some domains as well. You can also see the history and status of your backlinks. In short, there are many features in the Ahrefs. More details can be found in this link.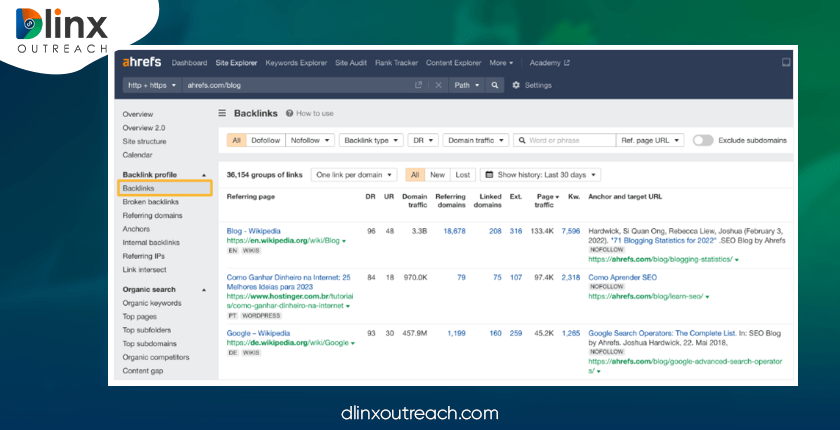 Backlink Analysis using Moz.
Moz can also provide similar information to Ahrefs. Type the URL in the Link Explorer and let Moz do the job. It provides a detailed analysis of backlinks.
One can retrieve information from Moz about inbound links, linking or referring domains and keyword or anchor text used for hyperlinking. In addition to that, it also provided the top referring pages, discovered and lost links and many more.
Moreover, it provided ample information on the spam score of the entered URL, which is essential to categorize them as "nofollow." These spammy links can be detrimental to your domain, as Google may consider them illegitimate and penalize your platform. More information on this can be found in this link.
Backlink Analysis using SEMrush.
SEMrush audit tools are another outstanding tool in marketing that is performing exceptionally well to give you detailed reports of your backlinks to devise your SEO strategy.
In this tool, you need to start a project, then configure the tool and click on the start backlink audit button. This will give you a detailed report of your backlinks.
This report will give you the data on your toxicity score, which means how many low-quality backlinks you have. It is more like Moz's spam score, as Google raises a red flag if too many low-quality backlinks point to your domain. This gives a feeling that one might have earned them through the Black Hat strategy. You can also use the same tool to remove these toxic backlinks.
It also provides information on referring domains and their toxicity score and lets you know the anchor text or keywords used to refer. It also provides information on your broken links so that you can reclaim them with more powerful content. More information can be found in this article.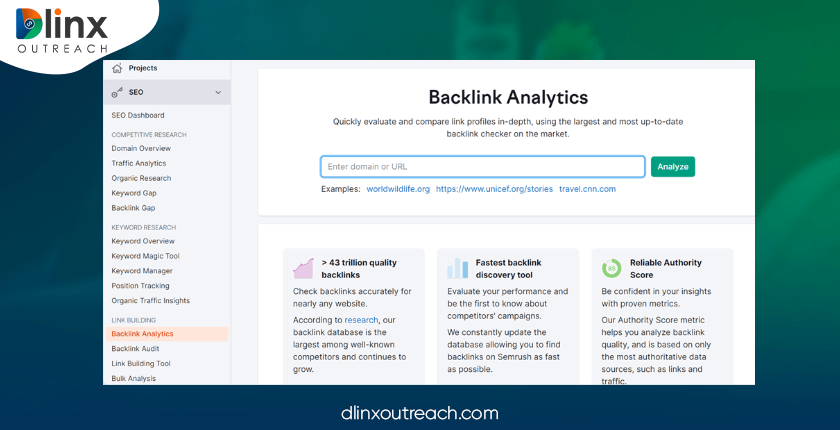 Backlink Analysis's Important Factors
Once you have audited your backlinks using any SEO tools, it's time to see different factors and parameters for further scrutiny to tailor your SEO and marketing strategies. The following are some important factors one must consider in-depth to conclude.
Domain Authority
Backlinks pass the link juice or equity to the referred sites. The authority and ranking of the referring domain are key factors to look at. The higher the authority or ranking of the referring domain, the higher the juice and your position at SERPs will be better. 
So, collect the authority data of your referring domains, and if there are more domains with low authority, then it should be a concern for you. So, target the high authority domains of your niche to get a link. There are many ways to get links from referring domains. Links from high authority domains are the most powerful and divert massive traffic.
Top Pages Vs. Website
One also needs to look for its site's pages, which outperform other pages of your website. Try to analyze these pages and sort out the reason behind their excellent performance. Try to add these reasons to your other pages as well.
It is reasonable to believe that some of your pages could have higher authority than your website. This analysis will give you the details about the underperformance of your website and other pages. So, try to alter your content accordingly. Visit here If you want to learn more about How Great Content Will Help You with Link Building?
Quantity of Backlinks
Google's algorithms look for both quality and quantity of backlinks to rank a website. So, one needs to work on the quality and quantity of backlinks. One needs to set a goal for the total number of links. So, you must look for the target number.
It is also worth mentioning here that no algorithm could suggest whether this number of backlinks is good enough for you. What you must look at is how well these backlinks are performing.
There might be a situation where one link from a single website might give you more traffic than a hundred other links. So, quantity matters, but quality will always have the upper hand in performance. So, one should have a handsome quantity of backlinks from authoritative referring domains.
Keywords' Quality
Keywords are vital for Google's search. Google's algorithms crawl each website page and save them in a repository based on the keywords used, known as indexing.
So, if you are competing for a typical product or service, you need to add the relevant keywords to your pages for the proper indexing. If you are not using the relevant keywords in your content, then there is a high possibility that your page might land in a different category. So, the quality of your backlinks matters for the proper indexing.
SEO tools can help you to find the relevant keywords in your niche, and you need to use these keywords in your content. The backlink analysis also provides you with the details of relevant keywords overlapping. If this number is less, revise your content and use the relevant keywords for proper indexing.
Keywords Gap Report
A keyword gap report is an excellent way to find overlapping keywords; e.g., SEMrush can help in this regard. These tools will help you to find the keywords you are missing in your content that are necessary for your niche.
So, you need to work on these keywords and produce content based on these words for better indexing and visibility. The picture below is from the article that tells how to use SEMrush to find the keyword gap.
Diversity of Referring Domains
We have already mentioned the importance of referring domains and their authority. The diversity of referring domains is also very important in Google's eye. The more diversity in your referring domains, the more authoritative your site will be.
It is just like peer-reviewing; the more peers from different walks of life but connected with each other somehow refer you, the better your reputation will be. Google does not like that you are getting multiple links from the same site. So, SEO tools provide this information on the diversity or uniqueness of your referring domains as well, which can guide you to take the necessary measures.
Toxicity or Spam Score
Your domain's toxicity or spam score refers to all those links that are coming from spammy, malicious and sometimes from low-ranked websites. Such links are detrimental to your ranking. So, it would be best if you disowned all such links by referring to them as "nofollow" in your HTML code.  
Tagging them as nofollow will pass the information to Google that you do not own all such links, and they may not be considered in the ranking process.
Rate of Fresh/Incoming Links
Keep working and striving for the new links, as it opens more avenues for your promotion and visibility. Recency is another factor that Google ranks very high. Fresh links are also an indication that you are updating your content, which attracts more users.
So, keep checking the number of fresh and incoming links to your domains to know that you are not stagnant in your business.
Geographic Information
The geographical information of your referring domains is another factor that one needs to keep in mind. It helps you to anchor your publicity scheme towards an area where most people are interested. It also allows you to determine which geographical areas to focus more on.
Competitors Backlink Analysis
Apart from your backlink analysis, one must look at their competitors' backlinks. It gives them an idea about the strategy of your competitors. It provides information about their referring domains, keywords, and new links.
This information is essential for your strategies as if a referring domain offers links to your competitors, there is a good chance that it could do the same to you. So, you need to approach them with a good strategy.
 You need to be on your toes if you want to compete in digital marketing. Our recent blog can help you to find competitors' backlinks and how to use this data for your benefit.
Conclusion
Backlinks are the backbone of your digital marketing, and their continuous analysis is vital to SEO. It looks laborious sometimes, but it will be a painless process once you master it.
A penalty of SEO tools is available that could provide ample information about your backlinks, their quality and quantity and relevancy and recency. Once you have the data, you must look for the key factors to improve your SEO strategy. These factors could be the number and diversity of referring domains, relevant keywords and their gap, quantity and quality of backlinks, page and website performance and competitors' backlinks reports.
Backlink analysis is a laborious, time-consuming task. It takes a lot of insight and experience to master it. Dlinx Outreach is an SEO agency with all the expertise in backlink analysis. Dlinx has the registered version of SEO tools that can help to analyze your platform. Please contact us for further information.
Frequently Asked Questions
Why to perform backlink Analysis?
Backlinks are vital for ranking, and their analysis will give you an idea of their performance.
Which tool is best for backlink analysis?
Different tools are available for the SEO. All these tools are good in backlinks analysis. However, Ahrefs, Moz and SEMrush are most famous among others.
Quantity or quality: which one is better?
Both factors have their importance. Ensure you have the targeted number of backlinks with good diversity and authority.
How important is spam or toxicity score?
This score provides information about the spammy and malicious sites linking to your platform. All such links must be removed, as these pass negative feedback to Google about the authority of your platform.
How good is Dlinx Outreach?
Dlinx is an experienced website that has already performed many projects. Visit our portfolio for further information.