In a competitive world like today, one must be one step ahead of its competitors. This is even more important for SEO and digital marketing, as you compete around the globe, and the evolution process of the digital world is very fast.
That's why you need to act swiftly to compete in the digital world to enhance your online visibility and credibility. It can be best if you are always on your toes to look for your competitors' moves.
Backlinks are one of the key factors of the Google ranking process. If content is at the top, backlinks always take the second spot. So, for the sake of ranking, you need to work at each avenue to earn more and more links.
Studies suggest that 27.6% of visitors click on the no. 1-ranked page, and the remaining look for the other pages. So, this starts the fight for the 1st spot in the search engine result pages.
Analyzing your competitors' SEO strategy is crucial to finding the total number of backlinks and referring domains. So, analysis of competitors' backlink strategy is a great way to tailor and modify your SEO strategy.
If a domain provides a backlink to your competitors, it can also give a backlink to you if you offer better and more informative content.
Before discussing how to find the competitors' backlinks, first, we need to know the level of your competitors. There are two levels of competitors, which are discussed below.
Domain-level competitors: These are the competitors offering similar services and products at large, e.g., Nike and Puma offer similar sports items. Similarly, BBC and The Guardian are competing at the domain level, as both are offering the same services.
Page Level Competitors: In this case, you might not be offering similar products or services, but you may have overlapping products. For example, Uniqlo is a clothing brand and also offers activewear, so Uniqlo is competing with the activewear of Reebok and Nike on a page level.
It is also highly likely that you might have different competitors at the domain and page level. SEO tools are very helpful, as they report domain and page-level competitors. So, one must find both competitors to loot the backlinks for a better ranking.
From here onwards, we will discuss finding and claiming your competitors' backlinks for better ranking and business.
Read | Does Website Traffic Increase Google Ranking
Find Your Main Competitors
One can find its main competitors using Google by simply writing the target keywords in the search bar and looking at the SERPs.
Take top results and save them in a sheet, then use another set of keywords and repeat the process. Keep on doing this until you have searched all your targeted keywords.
This laborious, boring, and tiresome job takes much time and effort. Luckily, several SEO tools available in the market can do this work for you.
The three most famous tools are Ahrefs, Moz and SEMrush. Apart from these three, there are many other SEO tools like:
Ubersuggest and many more can help you. This article will briefly introduce these three software for finding the main competitors and their backlinks.
Finding Competitors using Ahrefs
To find your competitors using Ahrefs, write your URL in the site explorer and click on the organic competitors report. It will display the list of all web pages and domains ranked for similar keywords as yours.
After finding the main competitors, one can also find your competitors' backlinks; the process is rather simple. Sign in with Ahrefs, type the URL of your competitors into its site explorer and click on the backlink reports.
Ahrefs will show you all the backlinks of the site. If you want to filter out the backlinks with respect to language, authority and traffic, then use its filtering option.
The picture below has been taken from one of the blogs published at Ahrefs, showing how you can search for your organic competitors.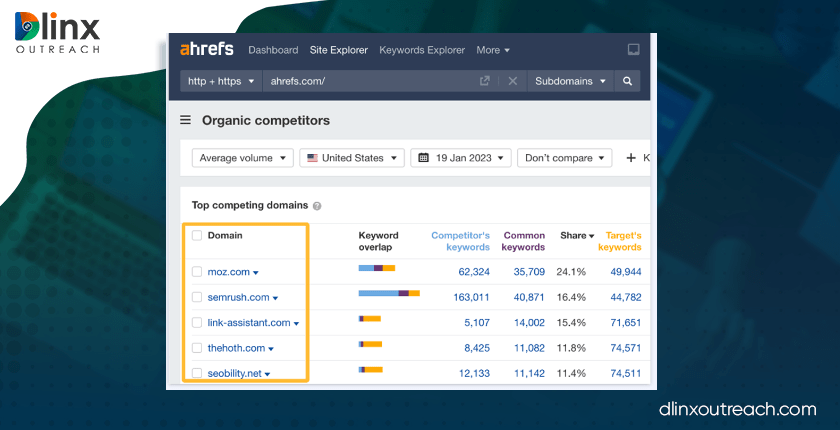 Finding Competitors using Moz
Moz is another excellent SEO tool that can help to find your competitors. Moz's true competitor tool can help you find your competitors by entering your domain or subdomain address, which will return the top competitors for you.
For the link profiling of your competitors, write the URL of your competitors in the Link Explorer of Moz. It will give you a detailed report of the entered URL.
This report will provide information on inbound links, linking domains, anchor text, top pages, spam score, etc.
One can have the basic analysis using the free version, whereas detailed analysis can only be produced using the pro version. The Good News is Moz provides the pro version for trial for 30 days.
The picture below shows how you can get the data of backlinks of your competitors. In the picture, the URL of Moz.com has been entered, and the left side shows all types of backlinks along with the spam score.
Finding Competitors using SEMrush
SEMrush outperforms its competitors by giving more options. One can find competitors based on shared organic keywords (organic competitors), shared backlinks (backlinks competitors), specific ads publishers (advertising competitors), customized keywords (position tracking competitors), paid keywords (paid competitors), shopping keywords (PLA competitors) and domain categories (Market competitors). These options are very helpful in categorizing the analysis.
One can find the backlinks by using the backlinks' competitors' report. This will provide all the details of links and referring domains.
The picture below is from the SEMrush, which shows the competitors of swimmingpool.com. The left side shows all analytics required for SEO.
Strategy to Replace/Loot Competitors' Links.
Once you find your competitors, the next step is to find the replaceable links. Following are the ways or the links which can be replaced. Target these links and try to replace them with your links. The details of such links are mentioned below.
Broken Links
Websites keep updating their content with time, and old and outdated links are often removed from the site. These links are easy to replace if you approach the webmaster smartly.
Just find a broken link of your competitors, email the webmaster about the link status, and replace it with similar but updated content. You can also make a report of all such links, create similar content on your platform, and request a replacement.
Outdated Links
Similarly, you can also make a list of links that refer to outdated and old information that is no longer related. Then, you may create content with updated and fresh information and ask the webmaster to replace the old link with yours.
Please ensure that the content you offer must be catchy, well written and mesmerizing. It is a win-win situation for both, as the referring domain refers to an updated source, and the referred domain gets a good organic link.
301 redirect links
301 redirect is another opportunity for the induction of your links. The URL change often causes these redirects, and there is a high possibility that you could land on an irrelevant page.
Such a situation is very confusing and irritating for the visitors, and the website would be more than happy to replace it. So, find all such redirects and replace them with your relevant links.
Podcast and Interview Links
Podcasts and interviews are not very common links, but they are easily replaceable by pitching similar podcasts and interviews. Then you may send a request for the replacement. Be sure that your podcasts are more informative and attractive than your competitors.
Guest Posts
You can also write guest posts on the site where your competitors have already posted their blogs. It is also an easy way to get a similar link. It is not necessary to post similar content on the same website; rather, you can pitch your idea to another but relevant website.
New Backlinks of Your Competitors
Please set up an alert for every new backlink that your competitors create and try to reach the publisher with similar but better content. It is also worth mentioning that the timing of approaching a webmaster is very crucial, as webmaster update their content within a couple of days after posting, so you need to contact them within this window.
Link to multiple competitors
If a site refers to many of your competitors, there is a high chance it could also provide you with a link as well. Try to reach all such domains and request a link for your domain.
Key Takeaways
Finding your competitor is not a luxury but a necessity in the present world. You can not survive in the digital world without knowing your competitors' moves. It would help if you fought with them at every avenue to take the top position in the SERPs.
This is a never-ending fight; you must keep well-versed with your competitors' SEO strategies. The most important part of this strategy is the backlinks.
One can find the competitors by searching the target keywords in Google's search, but this is a tiresome exercise. SEO tools like Ahrefs, Moz and SEMrush are excellent choices for SEO analysis.
These provide ample information regarding your competitors, their number of backlinks, referring domains, paid links and many more.
Such information is very handy to devise your strategy for backlinking. This also helps you find an opportunity to loot your competitors' backlinks. There are many ways to replace your competitor's backlinks with yours.
One can find the broken link and request a replacement with your active link. Links referring to outdated content can be replaced with up-to-date content. You can also guest post on the same website, where your competitors have posted and many more.
If you are looking to start a new website or have a website but are struggling to get indexed and appear on the top pages of SERPs, Dlinx Outreach has a solution for you. Dlinx is a team of SEO experts who have already helped many companies flourish in the digital world with innovative ideas. Please feel free to contact us to get yourself ranked. You can get the best Academic Writing Services and Guest Posting Services for your business or blog site.
Read | Benefits Of Blogger Outreach For Your Business
Frequently Asked Questions.
Is it necessary to use an SEO tool to find the competitors' backlinks?
Technically, it's not, but finding your competitors manually is a hell of a job and will require much time and effort. The report, which could take hours manually, can be generated using tools in less than a minute.
Which tools are better among the Ahrefs, Moz and SEMrush?
All these three tools are good in SEO and give you a good idea about the progress of your business. All these will also help you to generate a report of your competitors' backlinks.
How can you replace the broken links?
Broken links can be replaced by writing to the webmaster about the status of the links with an offer of updated links on your website.
What is the difference between the domain and page-level competitors?
Domain-level competitors are those that offer similar products and services as yours, whereas page-level competitors are those that offer one similar product or service as yours.
Can Dlinx help you to find your competitors?
Dlinx Outreach is an SEO agency that has expertise in using SEO tools. Hence, it can help you to find your competitors.
Related Articles: