In Search engine optimization, all strategies focus on earning a higher place in the top search engine research pages. Whether you are trying to buy backlinks, guest posting or running ads, all these parameters direct traffic to your site. This leads us to believe that website traffic is a key factor in Google's ranking.
Well, back in 2019, when a person tagged Google for a question, "Can referral traffic be considered as a ranking factor? Or does it have any distinct correlation with SEO?" every SEO expert was stunned by the answer, which is no, traffic to a website is not a ranking factor.
Read | Benefits Of Blogger Outreach For Your Business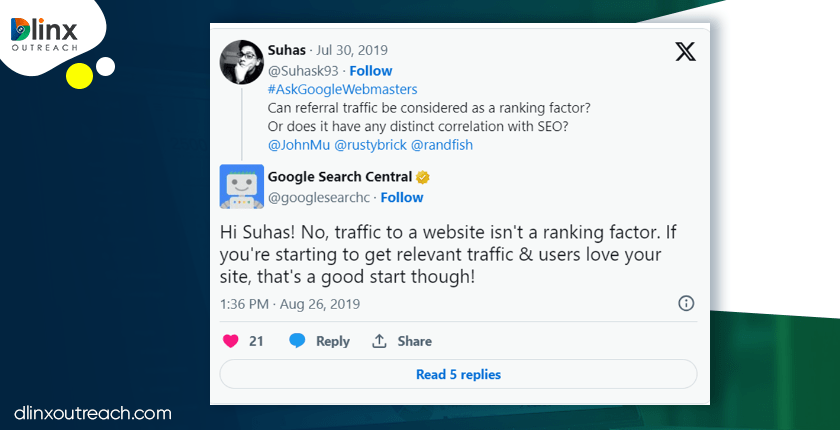 On the contrary, experts have observed otherwise. Fortunately or unfortunately, Yandex's code was leaked back in 2022, revealing the approximately 1900 factors used for the ranking calculations, and traffic is one of them. It is worth mentioning here that Yandex code is very similar to Google's and is the 4th largest search engine and browser around the globe.
From this leak, SEO experts were relieved to know that traffic is a key and influential parameter for the ranking factor, as most of the efforts of SEO experts are to bring in the traffic to their platform for the business. Logically thinking, no traffic means no one is visiting and interested in your business, so how could it be possible that one could scrap the traffic out of the ranking?
In a recent blog by backlinko.com, they explained the myth of 200 ranking factors, and traffic is again one of them. Traffic comes in many ways, and each has its own importance. Semrush study shows the 15 important factors contributing to the traffic flux. These factors are shown in the snippet below.
From this point forward, we will discuss the main factors that could influence traffic to your platform.
Direct Traffic
Direct traffic is the most impactful of all factors and brings in some serious business. Traditionally, it can be defined as "the visitors who type your URL in the bar or click on a bookmarked link." With the advancement of technology and the evolution of the IT industry, this definition has been refined as "the traffic which comes from the visitors who type your URL or click the bookmarked link, your employees, customers who often visit your website, mobile and email traffic, unsecured HTTP sites and links in apps and software."
Google gives high weightage to the direct traffic. It shows that people are familiar with your website and your authoritative platform. This really helps to increase your DR and DA. Direct traffic is proof of unpaid traffic and is a great achievement of the right SEO strategy.
Stay Time
The time for which a visitor stays at a website is the stay time—the longer the stay time, the higher the website ranking and vice versa. More stay time at a website shows that your website is interesting and relevant, SEO optimized and capitative.
Keep your visitors interested by offering deals, informative blogs and catchy infographics.
Bounce Rate
It is defined as the "percentage of visitors leaving the website without action." The higher the bounce rate, the lower the website's ranking will be. The average bounce rate varies between 40-50% and anything higher than this will certainly raise a red flag and require some corrective action to keep visitors engaged.
Moreover, the bounce rate differs in different niches as well. A report suggests that blogs, dictionaries, and portals have the highest bounce rate, between 65 to 90%, whereas E-commerce and retailers have the lower bounce rate, between 20 to 45%.
To reduce the bounce rate, one needs to engage its visitors by adding the latest trends in your platform, updating the content, adding HD pictures and videos, adding reviews and comments, engaging with your visitors and be adaptive to the the recent advancements.
The picture below shows the average bounce rate of platforms of different niches.
Pages per Session
The average number of pages a visitor navigates through in a session is one of the key factors in assessing the authenticity of the traffic. It indicates how interesting your content is, which compels the reader to read more.
How many pages per session is good? Well, more is better, but it is considered OK if you lie between 1.7 to 4 pages per session. It is pertinent to mention that this number is a strong function of your niche. One must evaluate and re-consider its SEO strategies if the number of pages per session is lower than 1.7. You can get this information by using Google Analytics.
An internal backlink structure is one of the key factors, along with many, to keep engaging your visitor. While buying something, You might have noticed that websites often offer you similar items to your purchase, which you often click unintentionally. Similarly, while reading a blog, you often find a link for further information on a specific term. These links increase your internal traffic and keep your visitors engaged.
The picture is from the latest article, and an internal link to another blog can be seen at the bottom.
Referring Domains
Referring domains are those platforms that link to your website on their platform. Referring domains are very important in the diversion of traffic to your platforms. Google gives a high value to such links. The higher the authority of the referring domain, the higher your ranking will be.
It is like peer reviews: the more referring domains, the more peers have confidence in your content and platform. There are two ways to get the links from other domains: earn it through your content or purchase it. Earning is difficult and could take time; purchasing is a simple and quick way to get traffic, but it's illegitimate. You can get help from SEO experts like Dlinx Outreach to organically increase your referring domain.
It is also worth mentioning here that Google has a closer look at the relevancy of the referring domain. If your referring domains are unrelated and look suspicious in Google's algorithm, then Google could take your platform down as a penalty for using illegitimate ways to gain traffic.
Read | How to Get a Permanent Backlink?
Backlinks
The whole SEO industry is nowadays focused on creating links to increase your authority. These backlinks pass link juice to your site for your site's authenticity and credibility. More backlinks mean more credibility and more traffic.
The number of backlinks is the vital and key parameter in the ranking calculations. One must not confuse the backlinks with the referring domain. Each domain can have multiple backlinks to a site.
In the ranking, Google considers both the referring domains and the total number of backlinks. It is also important to note that getting too many backlinks from a single domain might look unrealistic and malicious, and Google critically audits some links.
These backlinks from different and relevant domains will bring organic and convertible traffic. One might get traffic by paying using black hat SEO strategies, but these will have high bounce rates and low pages per session with a much lower conversion ratio. So, try to get links from relevant, authoritative, and authentic websites using white hat strategies.
Read | Difference Between Backlinks And Link Building?
Competitive Keywords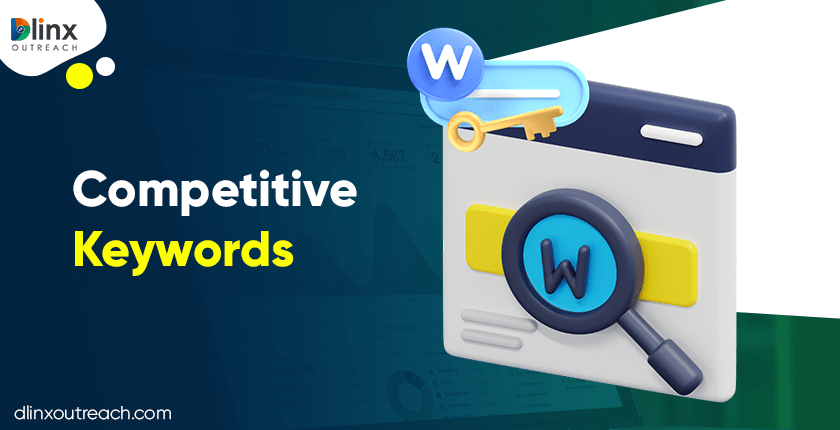 Keywords are the text words people type in the search bar to find a product, information, or service in a particular niche. These keywords are part of the SEO, and SEO tools like Ahrefs, Moz and Semrush can help you find the keywords in your niche.
To appear in the search engine result pages (SERPs), one needs to use these keywords in articles, web pages and products. Google's algorithm works in a way that it crawls every new thing in your platform, indexes it, and saves it in a repository based on the keywords being used.
Upon searching for the relevant keyword, Google presents the data from the repository. So, if you are not using the relevant keyword, it is highly unlikely that your page is presented in the SERPs. Consequently, no traffic will be diverted to your platform through the Google search.
So, use relevant keywords in your content, but do not overuse or stuff them here and there, which gives a raw and irrelevant feeling. Again, Google is very strict against keyword stuffing as it tricks and manipulates the Google algorithm for ranking. So, be relevant and use keywords where they fit well.
Moreover, these keywords should also be used in the titles, headings, and subheadings. While crawling, Google gives a high weightage to the meta details and presenting such keywords in meta description makes Google easy to index.
Website Security
Data is the real asset right now. Different platforms, including many social media, share their data with other apps to find the visitors' intent, sex, inclination, and many other preferences.
Nowadays, people are more sensitive to their data and personal information. So, HTTPS or hypertext transfer protocol is a secure way to transfer data between the browser and the user.
The more secure your platform is, the more confidence people will show on your platform, and this will bring more traffic.
It also helps you to monitor your traffic and distinguish good and bad traffic. So, one must stop the traffic coming from spammy and malicious platforms, which could lower your ranking.
Your website is the face of your business, and if your website is hacked and the sensitive data of customers is compromised and leaked, it will bring in a bad reputation, and visitors will stop using such a platform.
Videos and Pictures
Videos and pictures are essential to your SEO these days, especially when Google and other famous search engines index the videos and pictures.
So, add videos and pictures in your content relevant to your field to attract more and more visitors. People nowadays are not interested in long texts; they prefer looking for relevant pictures and short videos for quick and meaningful information. So, add catchy, mesmerizing, relevant and HD pictures along with short, precise, relevant, informative, and high-resolution videos to attract traffic.
The snippet below is of the front page of BBC, which is full of pictures. Each article is embedded with the picture.
Conclusion
E-commerce is all about organic, relevant and, above all, convertible traffic. You need no stone unreturned to attract visitors to your platform for the purchase. You lure them by providing high-quality and relevant content embedded with high-quality pictures and high-resolution videos on your platform.
Your website should be on, and off-page SEO optimized to keep the low bounce rate and high number of pages per session. This could be done by incorporating the relevant keywords and building a good internal network of links.
Your content should be so authentic that other platforms prefer to link with you to pass on the link juice and authority. At the same time, your platform should be secured enough that no intruder can pass through your firewall and leak the valuable data of your worthy and valuable customers.
Working on multiple parameters with proficiency and authority is not everyone's job. One needs to consult a team of experts to do the job for you, as an in-house team is expensive.
Luckily, Dlinx Outreach is an SEO agency that can increase your traffic by using white hat strategies. Dlinx can help you build links on relevant high DA and DR sites. We have the data of platforms of each niche in each country to help you to build links. Dlinx has the penalty of experience, as seen in our portfolio. Feel free to contact us for further discussion and quotations.
Frequently Asked Questions
Does traffic really increase your ranking?
Yes, studies and experience suggest that traffic is one of the essential factors in ranking. Logically, high traffic means high credibility and business, which should be part of the ranking.
Which one is more important: the number of Referring domains or the number of backlinks?
Both have their own importance in ranking. Google considers the number of referring domains and the number of backlinks in their ranking process. One must be careful not to have too many backlinks from a single domain.
How important is the security of your site?
Security of your platform is essential and very important. People are very sensitive to their data, and sharing them without their consent is a crime. So, a platform should be secure enough that hackers cannot penetrate it.
Are bounce rate and pages per session play a role in attracting traffic?
Both parameters suggest how interesting and visitor-oriented your content is. A low bounce rate and a high number of pages per session show the interest of your visitors.
Can Dlinx Outreach help you to bring in the traffic?
Dlinx is an SEO agency that can help you increase traffic by optimizing all the relevant parameters.
Related Articles: