Every SEO expert's most difficult and troublesome job is building links. Earning these links requires consistent and tiresome efforts. Building links is unlike running ads, which you make once and then keep running on different platforms. These links are hard to earn and maintain, as technology, content, and niches keep evolving with time.
Moreover, you also need to optimize parameters like content, anchor text, social media, and many more to keep earning backlinks. Each of these parameters requires massive efforts on their own as well.
So, consistent efforts for a long time and then waiting for the result may cause impatience, and one might be lured into Black hat SEO strategies for link building. Such strategies may give you instant fame, but the web crawler will hit your platform sooner or later. Once your platform is penalized, it is very hard to re-earn your lost credibility.
Once you have reached your targeted backlinks and ranking, you might earn new links easily and organically. Being number one is easy, but retaining the top spot requires some intelligent work.
SEO experts and newbies make mistakes because of the time taken by the link building. They try to use shortcuts. Such shortcuts may provide results for some time, but if you want long-term visibility, you must avoid such shortcuts and mistakes.
This article will help you find some common mistakes that most people make in the link-building process and cannot achieve the results they anticipate.
1. Ignoring Content
It is a universal truth now that "Content is the king." You need to focus more on the quality of content. Great content is the one that lures visitors to refer you to different forums. Great content's attributes are relevant, updated, informative, mesmerizing, free of grammatical mistakes and justify their statements with stats and relevant citations.
You do not have to add content once; you must keep adding and updating content consistently to keep your visitors visiting. Earning new links will be very hard if you do not work on your content regularly. Further information on the attributes of great content can be found in this article.
2. Buying Links
As said earlier, earning links is tedious, and people often get frustrated because of the time taken to build these links. So, people are lured into buying links out of frustration.
Buying backlinks, known as the Black Hat strategy for link building, is illegal, as per Google Guidelines. Sooner and later, one will be caught by the web crawlers and penalized for such illegal activities.
It is also worth mentioning here that there is a grey area between white hat and black hat strategies, where one can work to earn some links without being penalized. This article can be helpful in buying backlinks like a pro.
3. Keyword Selection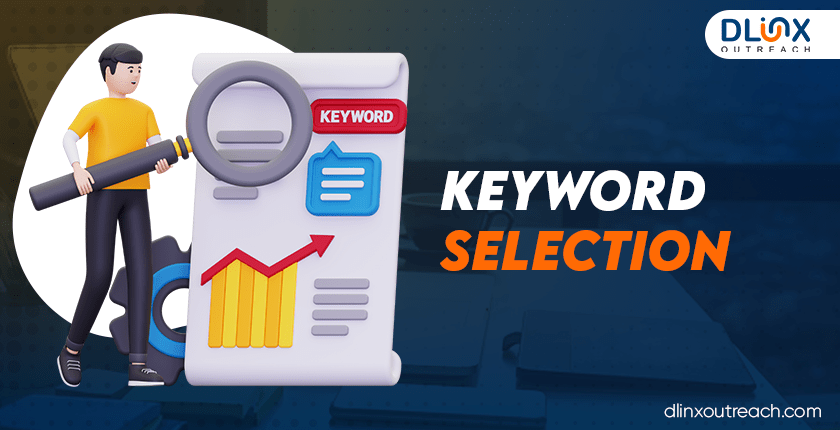 Selection of keywords is very important while inserting the links and developing the content. One needs to use the most used keywords of your niche in their content to appear in SERPs.
SEO tools can help you to find out the keywords of your niche. Google crawlers index your page based on these keywords and recall them or show them in the SERPs whenever they are searched. So, add these keywords to your content to get visibility, but these keywords should also be relevant to your content.
4. Stuffing Keywords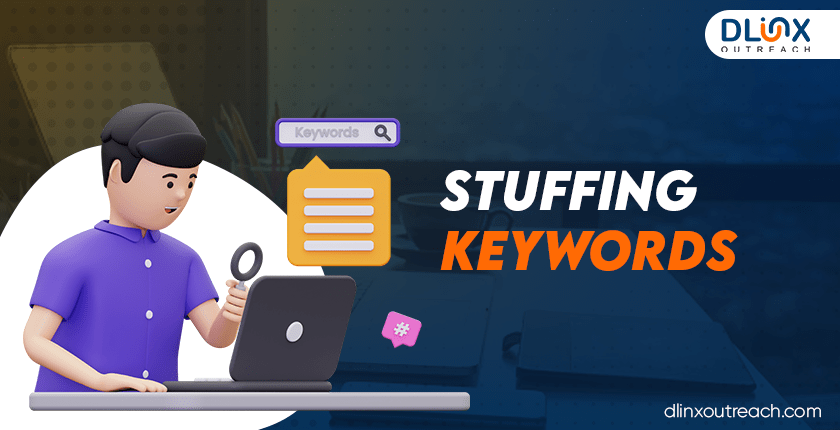 Stuffing keywords means overusing them in your content without any relevancy. As said earlier, Google indexes your page based on these keywords, but Google is smart enough to recognize that you are stuffing keywords.
Such a practice is like tricking your search engine, but it goes the other way, as search engines' algorithms detect all such activities and lower your ranking.
So, do not try to stuff your content with keywords of your niche. Use them where they are relevant and look more organic. As per Google's guidelines, stuffing is not allowed and it makes your content fizzy and also negatively impacts indexing.
5. Not Diversifying Your Anchor Text
Anchor text should have been diversified to capture as much traffic as possible. Anchor text is the word or phrase that you hyperlink. If you keep using the same keyword for links, then it looks like you are manipulating the ranking process.
It also shows that you have over-optimized your anchor, creating a negative reputation. Search engines are very strict on all such practices. It also creates a bad user experience when they encounter the same words repeatedly.
The best way to avoid this is to use a natural anchor that is relevant and aligned with your content as well. It is also a good practice to avoid exact matching of anchor text, and diversifying it will also help you to avoid over-optimization and earn a good ranking.
6. Preferring Quantity over Quantity
One of the biggest mistakes that beginners and even experts do is to prefer quantity over quality. There is no doubt that quantity is required, but never at the cost of quality.
A high DA and RA site can give you that much traffic that 100 low DA and DR sites cannot. So, try to target highly authoritative domains for link building.
It is also pertinent to mention here that a high DA site will take time and effort to give you a link, whereas a low DA site may provide links more quickly.
So, the catch here is to get a good mix of links concerning the authority of ranking. Keep striving for links from high DA sites, but do not completely ignore other platforms.
7. Spammy and Malicious Backlinks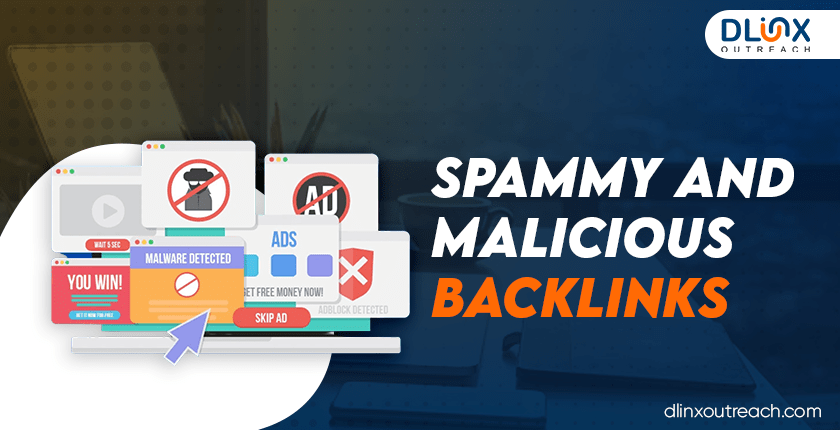 All those links that come from spammy sites are illegitimate and may become a source of lowering your ranking as well. All such links usually come from betting and porn websites, which are easy to buy.
It is highly recommended to avoid such link-building. One might be lured into this because of its low cost and immediate response, but once Google's crawler hits your platform, there is no way out.
8. Neglecting social media
Neglecting social media is one of the biggest crimes in the current era. Approximately 91% of businesses have social media pages, which capture 15% of the marketing budget, and its market size is $72.2 billion, which keeps increasing.
Every person using a smartphone has a social media account on different platforms. So, leaving social media will bring no good to your business.
The best remedy is creating a page on each social media app. Spread awareness about your work, publicize your brand and add testimonials about your product. Google might not consider the links on social media in its ranking process, but such presence will motivate users to visit your page.
This way, you can get authentic and organic traffic for your business. Social media apps are the cheapest platforms for promoting your businesses. So, never neglect social media in your SEO strategy.
The picture below shows the Facebook page of the famous brand Uniqlo.
9. Internal Backlinks Structure
Internal Backlinks are those links that navigate you to the other pages of the same platform. It is also a good way to increase the residence time of the visitor at your platform, which shows a positive user experience and can be a source of high ranking.
Using the relevant links that look organic in your content is recommended. Do not just rush for the internal links. Your content should have a good mix of internal and external links to give a more organic outlook of your content.
It is pertinent to mention that do not overdo this, as it will create a bad user experience and Google also considers it bad practice. Use these internal links where they look natural and organic.
The snippet below is from our latest blog, showing the internal backlink using the anchor text "Black Hat Strategy."
10. Irrelevant Backlinks
Google takes strict action if you get backlinks from irrelevant domains. For example, running an online store of activewear and getting links from a gaming site will raise a red flag.
Such a practice is considered an illegal Black hat strategy, and both referred and referring domains are penalized. Similarly, do not insert irrelevant links in the internal network of links.
Google also acts against irrelevant internal backlinks. So, it is highly recommended that you always get links from relevant websites and pages.
11. Ignoring On-Page SEO
Meta description defines the structure of your content. Your heading and subheading tell Google how to index your content. So, add headings, subheadings, and other details into your content for getting and inserting links.
Similarly, adding a table of contents and navigation bar for a better user experience and navigation within the website. Ignoring on-page SEO may lead to a bad user experience and people will stop referring to such pages.
The snippet below is also from our latest blog, showing the headings and table of contents.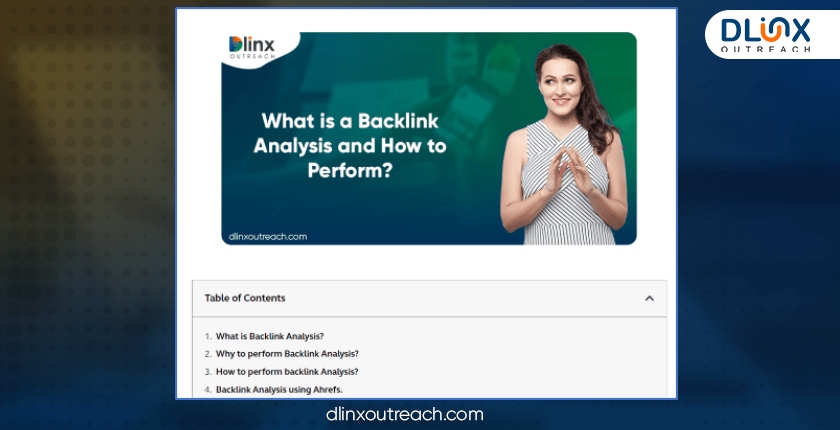 12. Ignoring No Follow links
All those links on your page that you do not want to own or that can be malicious and spammy should be tagged as "No Follow" in the HTML coding.
Such tagging tells Google not to consider these links in the ranking calculation. For example, it is very common for people to add links in the comments section of a blog. It is very hard for the webmaster to audit each comment and remove such detrimental links.
So, it is common practice to tag all such links as No Follow so that you are not penalized for other people's wrongdoing. Further information on No Follow Links can be found in this article.
13. Avoid PBNs
A private blog network is a network of websites that the same person may own and provide links to one single website. Such a practice is considered illegitimate, as you try to get a better ranking by using your own sources.
These PBNs are cheap sources of links, but at the same time, you are always at the risk of being caught by mighty Google and getting penalized.
14. No diversified Referring Domains
Referring to domains is very important, as relevant and authoritative domains pass the link equity to your domains and increase your ranking.
Getting too many links from a single domain will raise a red flag, and Google will strictly audit such domains.
So, try to get links from different relevant sites of your niche and even out of your niche. So, ensure you have a good mix of links from different referring domains. Google gives high weightage to the diversification of referring domains.
15. Ignoring Broken Links
Links often get broken during the upgrade and revamping of websites because of changes in the URL, deletion of the content or page or change in security settings. So, all such things and many more broke the backlinks, and they no longer take you to the referred page.
Removing or editing all such links is recommended for a better user experience. SEO tools like Ahrefs, Google Analytics and SEMrush are very good at finding all such links. Try to find all such broken links and amend them regularly for a better user experience. Otherwise, you can lose the traffic and credibility of your platform.
16. Avoid Excessive Reciprocal Links
If you give a backlink to a site and, in return, they also offer you a link, such links are called reciprocal links. This is a common practice among the same niche and is a win-win situation for both. According to Ahrefs' study of 112,440 pages, approximately half have reciprocal links.
Excessive such links are considered a wrong practice and can become a source of penalty. These excessive reciprocal links try to manipulate the SERPs and trick the Google ranking. Hence, it is highly recommended not to use such links, as they bring worse than good.
17. Neglecting Backlinks Auditing
Auditing of backlinks is as important as earning backlinks. Auditing backlinks give you the details of the kind of backlinks you are having.
It also gives you the idea of broken and spammy backlinks requiring some action. It also gives you the ideas of your referring domain. You need to remove referring domains that are spammy and bring in a bad reputation. It also gives you the backlink profile of your competitors, which is handy for achieving new backlinks.
One needs to audit backlinks using SEO tools regularly for better performance. SEO tools can be helpful in this regard for scheduling and filtering the backlink analysis.
Key Takeaways
Backlinks are part and parcel of SEO strategies; every brand and business needs backlinks for promotion and visibility. Following are the key takeaways if you want to avoid link-building mistakes.
Never ignore the value of the content; produce awesome content and get links automatically.
Never try to buy backlinks. It might look easy and cheap, but it will hit you hard once caught.
Always use relevant keywords and anchor text for your backlines.
Be diversified in your anchor text and referring domains.
Avoid PBNs, irrelevant, spammy websites and excessive reciprocal backlinks, as these are illegitimate.
Keep auditing your website to find broken links and spam scores of your links. This will help to repair the broken links and remove the spammy links.
Earning backlinks is an expert's job, and you need expertise in multiple trades to avoid mistakes. Dlinx Outreach is an SEO agency with a penalty of expertise in link building. We can help you to build links using white hat strategies that can help you to gain visibility. Feel free to contact us for further details.
Frequently Asked Questions
Is anchor text important in the links?
Yes, anchor text is very important in links. It should be relevant and diversified.
Are PBNs and reciprocal links good for visibility?
Both PBNs and reciprocal links are illegitimate and can become a source of penalty.
Why Broken Links Need Repair?
Broken links create a bad user experience and must be amended immediately.
Is it necessary to tag No Follow links?
All those links you can not control must be tagged as no follow so that these do not hurt your ranking.
Can Dlinx help you get flawless backlinks?
Yes, Dlinx is an experienced SEO agency that can help you build flawless backlinks.